Students

UdL user management: activation, recovery, password change, etc.
UdL e-mail: for staying up-to-date with the latest news
Students website: services, available tools, job portal, etc.
Student's Council: maximum representative body for this collective.
University Information and Orientation: unit that assists students.
User support: location of technical support spaces in every centre.
Teaching

UdL user management: activation, recovery, password change, etc.
Support and Advice to the Teaching Activity: issues and assistance on virtual campus use.
External profile

External users should receive a welcome e-mail for configuring their account.
Password update tool: resets actual password.
Gamify your classes by playing a game of trivial from your questions pool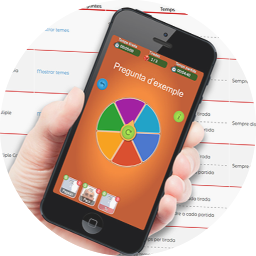 Get back to the classrooms in a more enjoyable way for your students by offering them to play with their mobile phones. With this new game we have just created, you can use existing questions from the tests tool in a nice and challenging match!
More information about the game Contact us and we will activate it
Videotutorials about virtual campus tools focused on teachers
You can check many help elements about the most used tools in the Virtual Campus Help Center website.
Tool video tutorials If your doubt is still unanswered, contact us
UdL APP
In order to receive your teachers ads directly to your mobile device.